News
The Beatles Love Me Do drum kit to be auctioned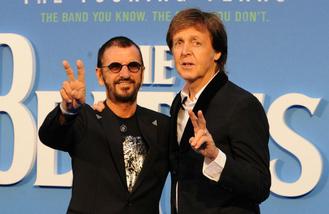 The Beatles' drum kit used on 'Love Me Do' is to be auctioned.
The band - comprised of surviving members Sir Paul McCartney and Ringo Starr, and the late John Lennon and George Harrison - achieved their first number one single in the US with the track in 1963, and now the drum kit they used on the record is to be put up for auction later this week.
According to TMZ, Nate D. Sanders Auctions will auction off the kit on Thursday (26.01.17), at a starting bid of around $75,000.
However, fans of the band may be disappointed to learn the kit was not used by Ringo himself as the drums for 'Love Me Do' were instead provided by session musician Andy White.
Most notably, the drum skin on the bass drum features the famous Beatles logo, as well as Andy White's name, the song name, and the name of the drum maker Ludwig.
Details of the kit on the auctioneer's website read: "The original Ludwig drum kit used for the recording of 'Love Me Do', The Beatles' first single on their first album 'Please Please Me', released on 22 March 1963 and ushering in Beatlemania.
"The session was recorded on 11 September 1962 at EMI London, with this recording of 'Love Me Do' used on the Beatles' first album 'Please Please Me' as well as the first Beatles U.S. release of 'Love Me Do' and the 1982 re-release of the song.
"In addition to 'Love Me Do', this Ludwig drum kit is also heard on 'P.S. I Love You', which plays on the B-side of the British single and on the 'Please Please Me' album.
"The kit was played by Andy White during the recording session, who played with the Fab Four that day, with Ringo playing tambourine on 'Love Me Do'."
The drum kit isn't the only highly priced item associated with the single either, it was reported last year that a one-sided acetate disc of the track - the only known pressing in existence - is worth an estimated £80,500.
Source: www.msn.com
Added automatically
534 views