News
Prince's Purple Rain reissue to feature new music and concert films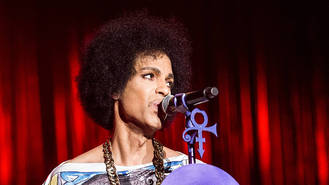 The reissue of Prince's Purple Rain will feature unreleased music and concert films.
The Purple Rain reissue will hit stores on 9 June (17) and it will include "two incredible albums of previously unreleased Prince music and two complete concert films."
"When we make any of Prince's music available to fans - from the hits to unreleased gems - we are committed to upholding Prince's high creative standards and we know fans will be thrilled when they hear these albums and see these films," a statement from Warner Bros. Records CEO Cameron Strang reads.
The news of the reissue comes on the same day the late icon's back catalogue was re-released on streaming services including Apple, Spotify, Pandora, Google Play, and Deezer. Prince's music began to appear on the sites on Sunday (12Feb17) hours before the Grammy Awards.
Nine months before his death in April last year (16) the musician struck a deal with Jay Z's Tidal music service to stream what would be his final two albums and pulled his old tracks from its competitors.
However, bosses at Warner Music, who manage much of his back catalogue, reached an agreement to make his music widely available on other streaming apps.
"Prince recorded his most influential and popular music during his time with Warner Bros. and we are deeply aware of our responsibility to safeguard and nurture his incredible legacy," Strang continued. "Warner Bros. is thrilled to be able to bring Prince's music to his millions of fans around the world via streaming services, fittingly on music's biggest night."
Meanwhile, reports suggest Bruno Mars will perform a Prince tribute with The Time at the prizegiving on Sunday.
Source: www.msn.com
Added automatically
565 views