News
Backstreet Boys join in romantic serenade for fan's proposal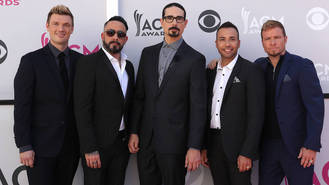 The Backstreet Boys helped a fan propose to his girlfriend by joining him in a serenade of their song Drowning.
Kitty Tung has been a massive fan of the boy band for years, with boyfriend James Guan also enjoying the group's musical talents. So when it came to popping the question to Kitty, James knew he wanted to involve the boys in some way.
After buying tickets to go and see them perform in Las Vegas, James got in touch with their management team to pitch his proposal idea, before being told that the group's unpredictable schedule would make his idea hard to pull off.
Undeterred, James bought tickets to a VIP event, and told Kitty he had won passes to meet-and-greet the five-piece. Once at the event, James told Kitty he was going to thank one of the band's security guards for the tickets he had 'won', before actually telling the guard his plans to pop the question.
The helpful guard then pulled singer Brian Littrell to one side, with Brian then passing on the message to his bandmates and the group's photographer. Josh then told Kitty to come to the front of the line, again fobbing her off by telling her it was part of his prize package, before getting down on one knee.
He had planned to sing Drowning's emotional line "I can't imagine a life without your love and even forever don't seem like long enough" as he proposed, but was left stunned when the boys joined in his serenade as well.
"I started telling Kitty that she meant the world to me and that she was the best thing that has ever happened to me, then I started singing the lyrics from Drowning and was planning to ask 'Will you marry me?' But BSB then started singing and I was totally shocked!" James smiled to Entertainment Tonight. "It was the most amazing moment ever... although my singing was off-key. I couldn't believe I was singing together with the Backstreet Boys and serenading Kitty!"
James' new bride-to-be Kitty was also taken aback by the incredible moment, telling the outlet: "I was in total disbelief when he got down on one knee. And when the Backstreet Boys started singing, I was trying to remain calm, but my heart was beating so fast. It was so surreal and I couldn't believe that the Backstreet Boys helped him pull this off!"
Source: www.msn.com
Added automatically
604 views