News
Halsey: 'Depression comforts me'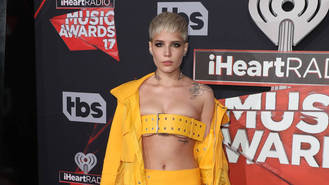 Halsey was a "tornado of anger and productivity" while recording her new album, thanks to her battle with depression.
The Hurricane hitmaker attempted suicide when she was 17 and in recent years she has battled a host of personal issues, including a miscarriage and endometriosis surgery.
"(I was a) tornado of anger and productivity," the 22-year-old explains of her creative process for new album Hopeless Fountain Kingdom in an interview with iHeartRadio. "Some people find themselves, myself included, comfortable in their depression. You know what it means to get better and what you have to do, but sometimes it's easier to just kind of, like, wallow in your misery."
Halsey released her debut album Badlands in 2015 to much acclaim and even though Hopeless Fountain Kingdom was recorded in a relatively short space of time, the star explains the two projects are vastly different.
"Badlands was about this girl living in this post-apocalyptic society and not wanting to escape and knowing she should, which was kind of a metaphor for a mental space," she shares. "For me, Hopeless Fountain Kingdom is a story of two people who want to be in love so badly they're willing to change themselves for their love and, in doing so, they let the real versions of themselves die. It's a Romeo and Juliet story."
On Tuesday (04Apr17), Halsey released the music video for her new single Now or Never, which was co-produced by Benny Blanco, who served as her "therapist in a weird way" throughout the recording process.
"We'd finish the track and then be ready to go, and he'd (Blanco) be like, 'Hey, I heard that thing you sang. Are you OK?'," she recalls. "It was kind of like he was hearing a cry for help in what I was singing, which was cool because it made us bond."
Halsey's sophomore album Hopeless Fountain Kingdom is released on 2 June (17).
Source: www.msn.com
Added automatically
618 views