News
Nelly Furtado secretly split from husband nearly a year ago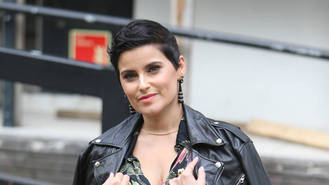 Nelly Furtado and husband Demacio Castellon secretly split last year (16).
The Maneater singer revealed the news on U.K. talk show Loose Women on Wednesday (12Apr17), saying she'd gone through a split last summer and had used music to help her cope.
Nelly released her sixth studio album The Ride in March (17), five years after her last musical offering.
"I've never stopped writing songs, I can't live without writing songs," she said on the show. "I went through an emotionally difficult period last summer and I actually wrote and sung myself songs to get through it.
"I was going through a breakup actually, and I just would sing to myself while I drove on these long drives, and I thought to myself 'I'm so lucky that I write songs, because I can soothe myself with them'. And then a friend told me they just find a song they connect with and that's how it helps them."
Nelly and sound engineer Demacio wed in 2008.
The 38-year-old, who has 13-year-old daughter Nevis with her ex Jasper Gahunia, added to fans that she's currently looking for love
"Someone needs to update my Wikipedia it's not helping my dating life," she laughed.
Her Wikipedia page has since been updated.
The singer, who showed off a new short hairstyle on the show, also touched upon the reasons she quit the spotlight, explaining that she was was craving real life experiences after the success of her first few albums.
"Touring on the road with my daughter became really tiring and I just craved to be home," she stated.
"Being a mother, on the road, and managing a relationship while making music (was hard). Although I like to be on stage, I'm actually shy too and I need my quiet time. It's all about self care, we kind of have to find that balance in our lives."
Source: www.msn.com
Added by AutoAdmin
552 views