News
Alanis Morissette's ex-manager apologises for stealing millions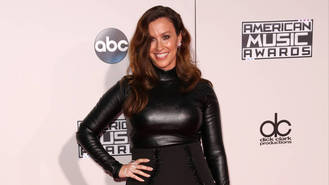 Alanis Morissette's former music manager's has publicly apologised for stealing millions from the singer.
In January (17), Jonathan Schwartz pleaded guilty to stealing $4.8 million (£3.9 million) from the Ironic singer, 42, over a period of four years. He also admitted to taking $2 million (£1.6 million) from other clients.
Schwartz, who will be sentenced for his crimes next month (May17), has penned an open letter of apology to his victims, family and colleagues which was published on Tuesday (11Apr7) via The Hollywood Reporter.
The letter begins, "I am writing this open letter to you so that you can learn from my mistakes and never find yourself in the situation I am now in.
"I am a convicted felon who has fully accepted responsibility and pleaded guilty to federal charges related to my embezzling over $7 million (£5.6 million) from my clients and business partners over a six-year period and not paying tax on it."
Regretting that he had lost a "great family", "a job that I loved", he blamed his actions on a gambling addiction.
"The spiral I was in was toxic," Schwarz writes. "Winning did not make me feel better but losing was intolerable. If I lost, then I had to make it back and when I lost again, the hole I had dug got deeper and deeper."
The disgraced manager writes he initially "borrowed" small sums from clients in the hope he could pay them back quickly with the winnings from successful wagers, but kept losing until he had taken millions of dollars from his clients.
Apologising to his clients for violating their trust he adds, "I let everybody down, and for that I will spend the rest of my life asking for forgiveness and making amends to everyone I have hurt."
Alanis has responded to the letter in a statement, which reads: "I would be apprehensive to believe any words that come out of Jonathan Schwartz's mouth."
Alanis sued Schwartz and the partners at his former company, GSO Business Management, but dropped the suit after reaching a settlement with them in June last year (16).
Schwartz initially claimed he had invested the money he stole from Alanis in a marijuana business, but now admits this was not true.
Source: www.msn.com
Added by AutoAdmin
549 views