News
Tinie Tempah joins Wizkid on stage at Wireless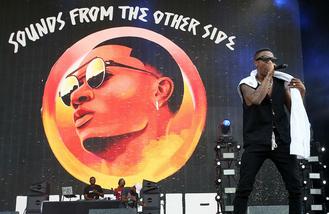 Tinie Tempah made a surprise appearance at Wireless Festival on Sunday (09.07.17).
The 28-year-old rapper sent the young crowd into a frenzy when he jumped on stage during Wizkid's set in the main arena to perform their hit single 'Mamacita' together.
But he didn't just do one song and leave, as the songwriter - whose real name is Patrick Chukwuemeka Okogwu - stuck around to perform his 2010 single 'Pass Out' as well.
Wizkid kicked off his set with his new song 'Come Closer', which features Drake, before he went into 'Naughty Ride' and told revellers that he "f****g loves London."
Earlier on in the day, North London artist Abra Cadabra asked festival goers to take part in a minute's silence, before he kicked off his performance, as a tribute to the victims of the Grenfell Tower fire, which saw an estimated 150 people lose their lives when an inferno ripped through the apartment block in West London, last month.
The commemorative moment was also in honour of Bradley Lowery - a six-year-old boy who died last week following a tough battle with neuroblastoma - a rare type of cancer.
A notice published on site read: "Abra Cadabra asks fans to join him at the Pepsi Max Stage and across the whole site to observe a minute silence at 1:45pm for the victims of those affected by the Grenfell Tower tragedy."
He told fans as they gathered at the stage for his performance: "You know what happened in West London in the fire, it's a sad thing - God bless everyone that passed away. The community came together, stick together and now they will pull together."
He then asked the crowd to put their hands together and applaud the victims.
Source: www.msn.com
Added automatically
618 views