News
Who is Talinda Ann Bentley? Chester Bennington's widow and 'endless ocean'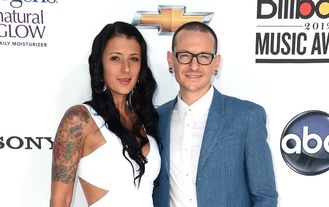 Linkin Park singer Chester Bennington died in an apparent suicide on Thursday ( 20 July), leaving behind his second wife Talinda Ann Bentley and six children.
It initially seemed that his grieving partner had broken her silence after a string of tweets appeared on her Twitter timeline hours after the 41-year-old star hanged himself inside his home in Palos Verdes Estates in Los Angeles, but fans soon realised that the shocking messages about their relationship and his passing was the work of sick hackers.
Born in Phoenix, Arizona, Bentley attended the Los Angeles Music Academy and worked as a science teacher before venturing into modelling. Between 2000 and 2004 she was regularly featured in Playboy.
She started dating Bennington − back on the market following his split from his first wife− after being introduced to him by a mutual friend and fellow musician, Ryan Shuck. They tied the knot in 2006.
Bennington previously credited Bentley for helping him overcome a depression following the collapse of his marriage to Samantha Marie Olit.
"I went from living in a huge house to a tiny apartment in Santa Monica. I was so drained and bitter during that time," he told Bullz-Eye. "I then fell in love again and I got help facing my demons... When I met Talinda, I knew she was the one pretty instantly. She moved into my place after a week and a half or something like that."
In 2006, Bentley was targeted by a cyberstalker named Devon Townsend who was determined to wreck their marriage. Following his arrest in 2008, she revealed that the ordeal made her paranoid, telling Wired magazine: "I didn't know who to trust. I literally only trusted my husband. Our family and closest friends were all suspects."
Bennington revealed his devotion to his partner in an Instagram post back in April. Alongside a snap of Bentley, he shared a poem entitled Woman. It read in part: "For I am just a lowly man. All I've touched I set a blaze. And she is like the endless ocean. Washed over me in waves. Forgiving all that I've abandoned. And mends my aching heart."
Bentley regularly gives fans glimpses into her family life with their three children Tyler Lee Bennington, 11, and twins Lila and Lilly, 6, via social media. While Bennington was on tour she used Instagram and Twitter to keep him updated with what's going on at home, even tagging her husband in pictures of their dogs.
On Father's Day, the 37-year-old praised the rockstar as "the man of my dreams❤️ You are the best Daddy ever!! @ChesterBe"
Source: www.msn.com
Added automatically
615 views