News
Aaron Carter keen to make Chloe Grace Moretz date dreams come true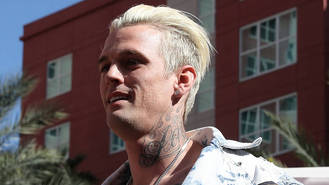 Bisexual star Aaron Carter is hoping to hook up with actress Chloe Grace Moretz after she confessed to crushing on him as a kid.
In a new video linked to her Variety cover story, the 20-year-old Kick-Ass star revealed she was besotted with the I Want Candy singer.
"When I was four years old I thought Aaron Carter was so cool," the young actress, who previously dated model and photographer Brooklyn Beckham, says. "And my friend, when we were both little babies back in Georgia, she liked Aaron Carter too and we used to fight over who would get Aaron Carter one day. Who knows, maybe we'll meet?"
Carter, who recently opened up about being bisexual, heard about Chloe's crush and took to Twitter on Wednesday (09Aug17) to let the actress know he was very fond of her too.
"The crush is mutual," he wrote.
He later replied to another tweet inviting Moretz to dinner.
The actress has yet to respond.
Aaron, 29, is single again after calling it quits with his girlfriend Madison Parker shortly before coming clean about his sexuality.
He took to Twitter on Saturday (05Aug17) to share an emotional letter with fans, revealing he is attracted to both men and women.
"This doesn't bring me shame, just a weight and burden I have held onto for a long time that I would like lifted off me," he explained.
Sources tell TMZ, Carter parted ways with his girlfriend days before the big reveal, and a representative for the singer confirmed the break-up was mutual, adding, the exes "love each other and respect one another dearly".
Aaron was last spotted out with Madison in Los Angeles on 1 August (17), hours after he was discharged from hospital following a mystery surgical procedure. Madison was also by his side during his DUI arrest in Georgia last month (Jul17).
He denied speculation he was on hard drugs due to the gaunt appearance featured in his police mug shot and revealed he suffers from a hiatal hernia stomach disorder, which affects his looks and makes him feel like an 80-year-old man.
Source: www.msn.com
Added automatically
434 views