News
Tupac's Hummer car back up for auction - report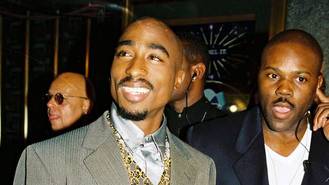 Tupac Shakur's 1996 Hummer is back up for sale after the winning bidder failed to come up with the cash.
The rapper who died in a drive by shooting in the same year (96) was sold to an anonymous Ohio bidder in May 2016 for $337,000 (£260,000), three times the expected selling price.
But according to editors at TMZ, the buyer failed to present RR Auctions with a cheque for the sale and the truck is now headed back to auction.
Tupac's Hummer which has only 10,101 miles on the clock was purchased by the rap icon a month before his untimely death.
The H1 is currently on auction until August 17 and the auction house predicts the truck will reach a more realistic $100,000 (£77,000) when the bidding closes on Thursday.
The black Hummer was heavily customised in keeping with his rap star status with diamond plated bumpers and an external PA system. Its beige leather interior featured a wood trim and boasted what would have been a top-of-the range sound system in the '90's.
The truck also included a "YAKNPAC" licence plate in honour of both its famous owner and fellow late rapper Yaki "Prince" Kadafi.
Tupac's Woodland Hills pad, which he moved into in 1995 following a stint behind bars, and called home until his death, is also up for sale and expected to sell for around $2.66 million (£2 million).
The All Eyez on Me rapper had reportedly been in the process of purchasing the luxury six-bedroom, five-bathroom house at the time of his passing. It was then picked up by former Limp Bizkit and House of Pain star DJ Lethal for $1.28 million (£969,300) in 2003.
Source: www.msn.com
Added automatically
523 views