News
Katy Perry: 'My hair makes me feel sexually liberated'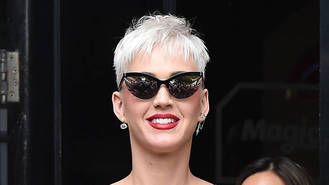 Katy Perry credits her short hair with making her "feel sexually and politically liberated".
The I Kissed a Girl star has sung the praises of her bleached blonde cropped hairstyle, which she's been sporting since March, following her split from Orlando Bloom.
Katy has already spoken about how she wants to redefine feminism with the style, and now she's opened up further to W Magazine about how it makes her feel.
"Everything is more fun with short hair!" she beamed. "I can just get up and go. I feel so liberated with this hair now. In general, I feel 360-degrees liberated--all around. Whether it's politically, mentally, spiritually, sexually. I feel liberated from all the things that don't serve me.
"I'm surrendering and embracing my 30s. You couldn't give me anything to go back to my 20s. To get to this place, I had to do some much-needed work on my heart, soul, mind, and body. Since doing that, a lot of beautiful things started to bloom again."
Katy released her fifth studio album, Witness, in June (17), and has been busy promoting the record. Made up of a mix of electropop sounds and more personal tracks, the 32-year-old admitted that when she writes music, she likes to delve deep into her personal feelings.
"My songs are so personal. Sometimes they are about people who are no longer in my life, or they're about unrequited love. I started out on tour last time and I couldn't perform a couple of the songs on the record because I was just too upset," she shared.
Source: www.msn.com
Added automatically
495 views