News
Patti Smith turns 74: Remembering when Allen Ginsberg bought the hungry punk-poet a sandwich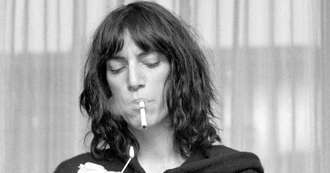 Patti Smith turns 74 today (30 December).
The "punk poet laureate" is currently preparing to ring in 2021 with a performance that will be aired on screens at Piccadilly Circus in London.
She will perform a 10-minute gig, as well as a new poem dedicated to climate change activist Greta Thunberg. The show will be available to stream on YouTube.
In a recent interview with The Guardian, Smith said her personal experience of the pandemic has been difficult, as she suffers from a lifelong bronchial condition.
"To be in limbo almost 10 months, for a person like me who doesn't like sitting in the same place, it's been very challenging. I feel like I'm part-wolf, roaming from room to room," she said.
Online, fans are celebrating Smith on her birthday by sharing their favourite songs and anecdotes.
Many will have read Smith's critically acclaimed memoir, Just Kids, in which she details her first meeting with the late Robert Mapplethorpe, and her youth and artistic evolution spent in New York during the Sixties and Seventies.
In one chapter, Smith details her first meeting with poet Allen Ginsberg, who later became her friend and teacher.
She recalls that she was in an automat struggling to find the money to buy a sandwich when she heard someone ask if he could help.
"I turned around and it was Allen Ginsberg," Smith writes. "We had never met but there was no mistaking the face of one of our great poets and activists. I looked into those intense dark eyes punctuated by his dark curly beard and just nodded. Allen added the extra dime and also stood me to a cup of coffee. I wordlessly followed him to his table, and then plowed into the sandwich."
Smith writes that Ginsberg introduced himself, and they briefly discussed Walt Whitman before Ginsberg asked Smith if she was a girl.
When Smith said she was, Ginsberg apparently laughed and said: "I'm sorry. I took you for a very pretty boy."
She continues that after they became friends, she and Ginsberg would often reminisce about their first meeting, and Ginsberg once asked how she described it.
"I would say you fed me when I was hungry," Smith told him.
A special illustrated hardback edition of Just Kids was released by publisher Bloomsbury in 2018.
Smith followed Just Kids with her 2015 memoir M Train, and 2019's Year of the Monkey.
Her New Year's performance will be available to watch on YouTube from 11.45pm on 31 December.
Source: msn.com
Added automatically
446 views