News
Morgan Wallen issues five-minute apology after racial slur incident: 'I was wrong'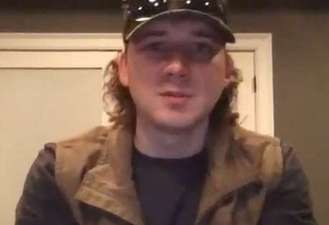 Country music star Morgan Wallen has issued an apology over his use of a racial slur and the ensuing scandal earlier this month.
The "Somebody's Problem" singer was suspended from his record label after a video emerged of him using the "N-word" twice as he returned home from a night out.
In the apology video, the 27-year-old said the reason he had taken a while before making his statement was because he wanted to issue personal apologies and meet with black leaders first.
He said that when he was first made aware that the video would be published by TMZ, he was offered the chance to apologise.
"I wrote many detailed thoughts, and only a portion of those got used [in the article], which painted me in an even more careless light," he said. "I'm here to hopefully show you that that's not the truth."
He continued: "The video you saw was me on hour 72 of a 72-hour bender, and that's not something I'm proud of."
Wallen, who revealed he has been sober since the incident took place, said he had accepted "some invitations from some amazing black organisations and executives and leaders to engage in some very real and honest conversations".
"I'll admit to y'all I was pretty nervous to accept those invitations from the very people I hurt, and they had every right to step on my neck while I was down, to not show me any grace," he said. "But they did the exact opposite; they offered me grace. and they also paired that with an offer to learn and to grow. … You know, that kindness really inspired me to dig deeper on how to do something about this."
Wallen claimed to have come away from those conversations with "a deep appreciation for them and a clearer understanding of the weight of my words".
"I wish the circumstances were different for me to learn these things, but I'm also glad it started the process for me to do so," he said.
He added that he now plans to go off-grid for some time to "get used to making good decisions".
"Who knows if I'll be able to live down all the mistakes I've made, but I'm certainly going to try," he said.
Wallen concluded his video by requesting that his fans stop defending him over the controversy.
"I appreciate those who still see something in me and have defended me," he said. "But for today, please don't. I was wrong. It's on me to take ownership of this and I fully accept any penalties I'm facing.
"The timing of my return is solely upon me and the work I put in. I still have a lot of really good people in my corner trying to help me and I appreciate you more than you know. This entire situation is ugly right now, but I'll keep searching for ways to become the example instead of being made one."
Source: msn.com
Added automatically
114 views