News
Boomtown 2021 cancelled as organisers cite lack of government-backed Covid insurance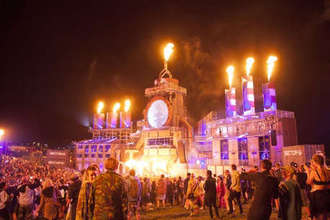 Boomtown Fair music festival has been cancelled once again.
The 66,000 capacity event, this year titled Boomtown Chapter One: The Gathering, had been due to take place in Winchester from 11 to 15 August, with tickets selling out in February.
However, on Tuesday (20 April) morning, organisers said that the festival would not return this summer, as "time has simply run out" to put the event on to high safety standards.
"With less than four months to go until the event, and after almost half a year of collective campaigning to the government, sadly Covid-specific cancellation insurance for events simply does not exist at this point in time," they wrote.
"This means anyone putting on an event this year, will be doing so without the safety net of insurance to cover them should Covid prevent them from going ahead in any capacity."
They continued: "For an independent event as large and complex as Boomtown, this means a huge gamble into an eight-figure sum to lose if we were to venture much further forward, and then not be able to go ahead due to Covid."
They also said that they currently did not have "enough of an understanding" of the required safety measures that would need to be in place at the event.
All tickets for 2021 will be rolled over to 2022, with refunds also available.
Source: msn.com
Added automatically
338 views