News
Unearthed fan reaction video to Whitney Houston's 1991 Super Bowl performance is so pure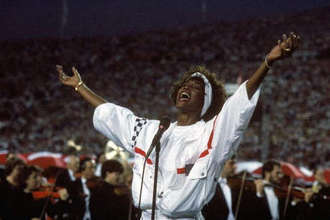 The late, great Whitney Houston was a six-time Grammy Award-winning musical artist with an astonishing and angelic vocal range as expressed on hit songs "I Will Always Love you" and The Greatest Love of All" to name just a couple.
She also had incredible acting chops in The 1992 film, The Bodyguard alongside Kevin Costner and the 1997  Rodgers & Hammerstein's Cinderella  film with fellow actress and singer Brandy which was inspiring due to the racially diverse cast.
It's safe to say that Houston accomplished a lot and inspired people along the way.
Recently, a Redditor who goes by u/Puzzleheaded_Rate_12 posted a clip of Houston's 1991 Super Bowl National Anthem performance to Reddit page /r/PublicFreakout. And let's just say Houston's performance energy alone was captivating.
Within the clip, you see a group of men. One of them is standing by the television, while the other two are sitting down on what appears to be a couch.
"She's doing an excellent job," said one of the men in the video.
"A really touching moment," said another.
Then when Houston went to hit the high note to rap up the song, one of the men said, "she's going for it." And then all of the men gleefully embraced one another over the performance, which was so charismatic.
Naturally, people in the thread were just as enthused as the person in the video with the iconic Super Bowl performance.
"Whitney Houston singing the national anthem will never not give me goosebumps, wrote u/reddituser_me.
Some also commented on the nostalgia of the video, pointing out the scene.
"This video was so nostalgic. The small TV in the same basic style entertainment center that everybody had, everyone gathered up close to the TV because you couldn't see it very well from far away, wrote u/-ksguy-.
"The song has never been performed better than Whitney Houston did on that day," wrote u/ChorizoGarcia.
Houston has a special place in the hearts of many, and she deserved all the praise for it.
Source: msn.com
Added automatically
591 views