News
Musician Ezra Furman: 'I am a trans woman and I am a mom'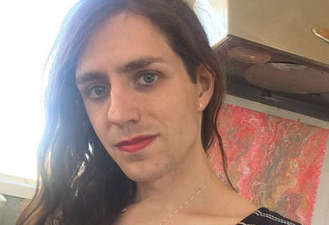 Musician Ezra Furman has announced that they identify as trans, and has been a parent for the past two years.
"I wanted to share with everyone that I am a trans woman, and also that I am a mom and have been for a while now," they wrote in a statement on Facebook.
"About being a trans woman: for my own reasons I have been hesitant to use these words, especially the 'woman' word.
"I have often described myself as non-binary, which maybe is still true (I'm just gonna sit with that question for the moment). But I've come to terms with the fact that I am a woman, and yes for me it's complex, but it's complex to be any sort of woman. I am very proud to be a trans woman and to have come to know it and be able to say it. This has not been an easy journey."
Furman also described their journey to motherhood, writing, "There's enough said in public about the magic of parenthood. It is beautiful and holy and I love it – that's all on that subject. I have not yet mentioned in public that I'm a parent because I have been afraid of being judged and grilled about it as if it's anyone's business other than mine and my family's."
"But. I'm telling you I'm a mom now for a specific reason," they continued. "Because one problem with being trans is that we have so few visions of what it can look like to have an adult life, to grow up and be happy and not die young."
Furman explained that, when their child was born, they had "zero examples" of trans women raising children: "So here's one for anyone who wants to see one."
"This is possible," they told fans. "I never dreamed it was possible to be happy and self-realised and trans and uncloseted, and also become a parent. But it is and I am doing it. Because trans people deserve to pursue the lives we want, on our terms."
Furman's Twitter bio states that their preferred pronouns are she/her and they/them.
Furman has spoken and written openly about their journey with gender fluidity in the past. In 2015, they wrote a column for The Guardian about how their music idols helped them feel more comfortable with their own ideas of gender.
"Lou Reed was an ideal figure to me," they wrote at the time. "He was bisexual, like me, and seemed to inhabit an ambiguous middle place on the masculine-feminine spectrum. He was artily avant garde, but he also made a lot of traditionalist, good ol' rock'n'roll.
"He was somehow 'punk' but he was never part of the media-saturated punk movement of the late 60s; rather, he preceded and transcended it... In Lou Reed's refusal to be categorisable, I saw the sketchy outlines of a way of being that might actually work for me. I sensed in this man's voice and image a freedom for which I lusted fiercely."
Back in February, Furman featured on Du Blonde's single "I'm Glad That We Broke Up".
Their last studio album, Twelve Nudes, arrived in 2019. At the end of their Facebook note, Furman wrote, "More music to come before long."
Source: msn.com
Added automatically
197 views