News
Andrea Bocelli Luciano Pavarotti: Were Andrea Bocelli and Luciano Pavarotti friends?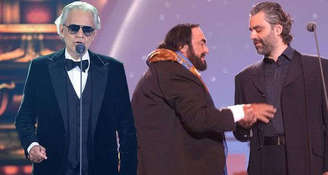 Andrea Bocelli and Luciano Pavarotti are two of the most accomplished and well-loved classical singers. They shared the stage and sang together, and Andrea commemorated Pavarotti's death by performing at a tribute concert. But were the two Italian tenors friends, or just colleagues?
Andrea Bocelli and Luciano Pavarotti seemed to be close friends.
In fact, it was thanks to Luciano that Andrea got his start in music, when a demo tape changed Andrea's life.
In 1992, Italian rock star Zucchero held auditions for tenors to make a demo tape of his song Miserere.
The demos were to send to Luciano, in the hope it would convince the tenor to sing the duet with Zucchero on his album.
On hearing Andrea's voice, Luciano insisted Zucchero should use his voice instead of his own, though eventually Luciano did perform the song with Zucchero.
Luciano was reported to have said to Zucchero: "Thank you for writing such a wonderful song.
"Yet you do not need me to sing it - let Andrea [Bocelli] sing 'Miserere' with you, for there is no one finer."
Pavarotti also performed the song with Andrea, and their duet of Miserere became a European hit.
After the success of the song and subsequent album of the same name, Andrea was invited to join Zucchero's European tour to sing the duet with him.
He also performed Nessun Dorma on this tour, and eventually his renditions of these songs helped to secure a contract with Sugar Music, after executive Caterina Caselli heard him sing.
Had Luciano not recommended Zucchero to use Andrea's voice, it may have been that Andrea did not get the worldwide exposure and subsequent opportunities.
After that point, Andrea and Luciano became friends, with the latter inviting Andrea to perform at his high-profile charity gala concerts, Pavarotti and Friends.
Pavarotti and Friends included major stars like Brian May, Sting, Eric Clapton, Bono and Mariah Carey among its singers.
Andrea performed at three of these events, all of which took place before Pavarotti's death from pancreatic cancer in 2007.
In 2015, Andrea said to The Telegraph: "Pavarotti loved me.
"He called me [to perform] at his wedding and his wife called me again for his funeral."
Years later, after admitting Pavarotti's death in 2007 'deeply upset' him, Andrea paid further tribute to the singer.
He said in 2017 to Alghad: "Even though he left us ten years ago, his voice is always alive in everyone's heart including mine.
"I have had the privilege of knowing him and sharing many memories with him, and each one of them is just as strong and alive today."
Source: msn.com
Added automatically
81 views