News
Elvis Presley military exit: Why was Elvis discharged from the Army?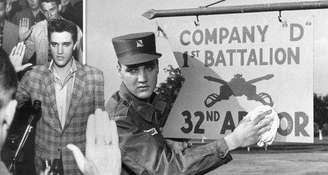 Elvis Presley served in the US Army for a short time, in the middle of his recording and film career. This time was incredibly important for him, with it marking the death and meeting of two important women in his life. He left the Army in 1960, after just two years of service - but why was he discharged?
Elvis Presley's time in the Army was an interesting one, during which he did begin a journey that ultimately added to his demise.
It is widely considered The King began using drugs during his time in the Army, which became a life-changing problem for the singer.
According to Peter Brown's book Down at the End of Lonely Street: Life and Death of Elvis Presley, Elvis was introduced to amphetamines by a sergeant, and other soldiers partook with him in this drug.
The King was reportedly 'evangelistic' about the benefits of these drugs, though they ultimately had a bad effect on him and were believed to have contributed to his ill-health and death.
As well as this, they were part of the cause of the breakdown of his marriage, with Priscilla telling People magazine: "People go, 'well why didn't anyone do anything?' Well, that's not true.
" People there in the inner group did, but you did not tell Elvis Presley what to do...
"They would try and no way. He knew what he was doing...
"They gave [pills] to the soldiers over there to keep them awake.
"If you take a sleeping pill, you have to do something to get yourself awake."
Despite this beginning during his time in the Army, this was not behind his discharge, and, in fact, Elvis' discharge came at the end of his two-year service, as it would for any soldier.
In fact, Elvis performed so well in the Army that he was officially notated as 'honourable' on his service and was discharged from active duty, always being known as a veteran.
He was also given the Army Good Conduct Medal for his work and rose through the ranks throughout his time.
When Elvis first enlisted, he was a Private and became a Private First Class only a few months later in November 1958.
In June 1959, he was promoted again to Specialist Fourth Class, and only weeks before his discharge in March 1960, he was promoted to Sergeant.
A huge crowd of fans, including his record label representatives and singer Nancy Sinatra, welcomed him home from duty days before his discharge.
Despite being at the height of his career when he left for the Army, Elvis wanted to prove to fans he was up for the challenge of the work.
He said at a press conference in West Germany: "I was in a funny position. Actually, that's the only way it could be.
"People were expecting me to mess up, to goof up in one way or another.
"They thought I couldn't take it and so forth, and I was determined to go to any limits to prove otherwise, not only to the people who were wondering but to myself."
He had been offered more cushy army jobs but turned them down to enter service as a normal soldier.
Source: msn.com
Added automatically
64 views