News
Lorraine speaks out on 'full of himself' Eurovision act: 'Is this a wind up?'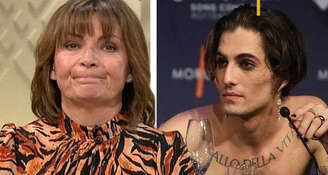 Lorraine Kelly, 61, wasn't impressed with footage Damiano David, lead singer of Italian band Måneskin, who won this year's Eurovision Song Contest. Slamming him "full of himself", the ITV star also condemned the viral clip, which prompted viewers to make unfounded claims he was "taking drugs" on live TV, an allegation he strongly denies.
During the show, the band - consisting of lead singer, guitarist Victoria De Angelis, musician Thomas Raggi and drummer Ethan Torchio - were seated together in the green room and alongside other contestants in the live final on Saturday, when the camera caught Damiano lowering his head behind a bucket of drinks.
The clip was posted and widely shared on Twitter, to which Lorraine questioned what was going on.
The original post was captioned: "SURELY ITALY SHOULD BE DISQUALIFIED FOR THIS?..."
Lorraine responded: "Is this for real?? Or a wind up?"
Someone replied giving their opinion, saying: "My first thought would be a wind-up, simply because it's such an obviously exposed place to be, and it makes for an 'edgy' gesture."
The presenter agreed: "I thought that too. He was so full of himself and achingly 'rock and roll'."
The moment sparked a lot of wild speculation among Eurovision viewers, but the singer has spoken out to deny suggestions he was taking illegal drugs.
Addressing the incident at a press conference after the show, he was met with cheers and applause from those in attendance for their huge win.
Speaking of the claims, he said: "I don't use drugs."
"Tomas broke a glass with his leg" – he continued, insisting he was helping clear up the wreckage.
He added: "I don't use cocaine, please don't say that."
There is no evidence to suggest the claims against Damiano are true.
Following the speculation on social media, the group showed support for their lead singer, stating via Instagram, writing: "We are really shocked about what some people are saying about Damiano doing drugs.
"We really are AGAINST drugs and we never used cocaine. We are ready to get [tested], cause we have nothing to hide.
"We are here to play our music and we are so happy about our Eurovision win and we wanna thank everyone for supporting us. Rock'n Roll never dies. We love you."
The Italian group managed to secure a whopping 524 points on Saturday, narrowly beating Switzerland's Gjon's Tears and France's Barbara Pravi by 25 points.
The UK however, placed a disappointing last, with James Newman and his song Embers failing to impress the judges or the voting audience as the UK received nil points.
Source: msn.com
Added automatically
407 views