News
Rare cassette recording of John and Yoko sells for £43k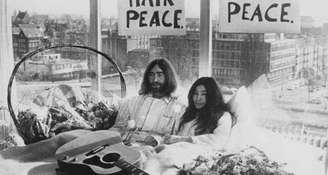 A RARE cassette recording of John Lennon and Yoko Ono has been sold for £43,000.
The 33-minute tape includes unreleased song Radio Peace.
It also features Lennon expressing his frustration at his Beatles image just before the Fab Four split.
The January 1970 recording was made when John and Yoko were in Jutland, Denmark, to see Ono's daughter Kyoko, who lived locally with her dad.
Four 16-year-old "hippies" got their teacher to let them go to a news conference with the couple because they were interested in their peace campaign. But due to snow they arrived late.
However, the boys and a handful of other late journalists were invited in anyway. Karsten Hoejen taped the meeting, while pal Jesper Jungersen took snaps.
Karsten said Lennon and Ono had "their feet on the table in their woollen socks". At one point the couple joined in a Danish tradition and danced around a Christmas tree.
Lennon, shot dead in New York in 1980, sang the Give Peace A Chance. He and Yoko, now 88, performed Radio Peace, a short theme song for a radio station that never opened. The cassette, a school newspaper and 23 photos, were sold at auction Copenhagen yesterday.
Photo: GETTY
Source: msn.com
Added automatically
230 views