News
Little Mix Just Dropped New Single "Between Us," and It Will Make You Want to Call Your Bestie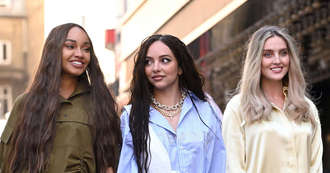 Little Mix just dropped their new single, making a vow that nothing will come between them. In the words of a Mixer commenter, "the new era has begun and we're here for it". The new song Between Us, released on 5 Nov., sets the tone for their upcoming greatest hits album, due to be released on 12 Nov. under the same name. The group describe Between Us as "a celebration of 10 years of hits, friendships, new tracks and so much more".
The latest single is a fitting tribute to the group's solid bond through highs and lows, featuring the lyrics: "When the curtains close and all of the lights go down; Safe to say I'll stay, I will always stick around; And I will fix your crown; And if you're knocked, I'm your rock; I won't stop, you will never be in doubt".
When releasing the song, the trio noted "This song is extremely special to us. It's about the last ten years and everything we've been through together", adding "We've had this song for months now and we still get emotional every time we hear it (who knows how we're gonna get through this one live)." The friendship anthem is accompanied by a lyric video that maps out key highlights from Little Mix's journey, from their 2011 roots to present day.
It's fair to say the Little Mixers are receiving the emotional new song with open arms. On YouTube, one said "as I am a Mixer this song really hits different, all the references make me wanna cry" while another added "this song represents them, their friendship, their bond. They have been through thick and thin together for the past ten years. The good, the bad, everything. I'm sure nothing could come between them. I love this song so much already!"
Photo: Getty / Karwai Tang
Source: msn.com
Added automatically
346 views