News
Patti LaBelle files countersuit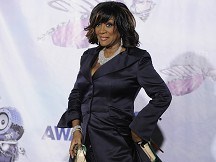 Patti LaBelle has filed a countersuit against a man who says she ordered her bodyguards to beat him up outside a US airport.
The R&B star claims the altercation began after cadet Richard King hurled racial insults at her - an allegation denied by King's lawyers.
The 23-year-old's lawyers say he was waiting to be picked up by family outside one of the terminals at Bush Intercontinental Airport in Houston on March 11 when three of the singer's bodyguards attacked him without provocation.
Mr King filed his lawsuit earlier this month naming LaBelle, the three bodyguards - one of whom is the singer's son - and two others as defendants.
His lawyers claim the alleged attack resulted in a concussion, lingering dizziness and headaches for the cadet.
A surveillance video from the airport that was previously released by Mr King's attorneys shows him being pushed and punched by two men and a woman, all alleged to be LaBelle's bodyguards.
LaBelle filed a countersuit, accusing the cadet of attacking her bodyguards after he directed profane and racial slurs toward the singer. In the countersuit, her lawyers accuse Mr King of being drunk, staggering around outside the terminal, screaming obscenities and trying to enter the star's limousine.
Mr King was politely asked to walk away from the vehicle, according to the countersuit.
Mr King's attorneys have said the cadet had a few drinks on the flight to Houston but denied he was intoxicated.
"King directed profane and racial slurs towards LaBelle. When LaBelle's son (Zuri Edwards) heard the profanity and racial epithets, he informed King that the woman in the limousine was his mother," the suit said. "Without warning or provocation, King violently and deliberately punched Edwards in the face."
Source: music.uk.msn.com
Added by AutoAdmin
1030 views