News
Macca was advised to retire at 50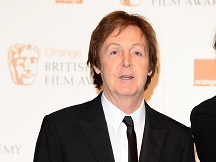 Sir Paul McCartney has revealed his advisers told him to retire at the age of 50.
The music legend - who is still recording and touring after turning 69 earlier this month - said he continued because he was still "enjoying" his career.
And Sir Paul told Mojo magazine that instead, he ended up parting company with the manager who suggested he stopped making music.
The former Beatles star said: "One of my old guys who I used to have as my manager, I was knocking 50 and he said 'I think it's time you retired'. I thought, I know what you mean, but I don't really feel like it, you know.
"And if I'm really enjoying this, why retire?
"So I decided against it, and got rid of him.
"I wonder what he thinks today. Perhaps that he was right, but hopefully not."
Sir Paul, who is promoting reissues of his albums McCartney and McCartney II, told the August edition of the magazine he does not see music-making as "work".
The star - who continues to play live next month with shows at the Yankee Stadium in New York, before further concerts in the US and Canada - said: "People say to me 'you work so hard'. We don't work hard, we play music - we don't work music.
"It sounds simplistic but it's really true. It's not like going into an office."
Source: music.uk.msn.com
Added by AutoAdmin
1062 views