News
Organiser hails festival's success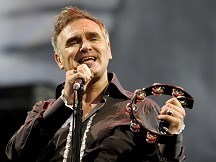 Festival organiser Vince Power has said that getting big names like Prince, the Eagles and Morrissey to perform at this year's Hop Farm Festival has put the event on the map.
Speaking on the second day of the Kent festival, Mr Power said he was "really pleased" at how it was going.
He said: "It's going very well, it's a really lovely day and we're just listening to Patti Smith in the background. The festival's fantastic, I'm really pleased. It's been a really good bill. I think the bill today with Lou Reed and Iggy Pop, it's just fantastic, it's just a complete 80s bill.
"This puts us on a different level I think. Having the Eagles, Morrissey and Prince, this is big now. I think it's up there now with all the other festivals - the big ones."
Asked about the festival's no-sponsorship ethos, with no VIP areas or branding, he said: "I just thought it would be a nice fresh start if we could just get the festivals about the people, because they're the important ones who pay the actual full fee to get in.
"No sponsorship, no branding, it really doesn't actually affect the festival that much and it gives us a great advantage of not having to sell you the one beer or have the same network for phones. (Otherwise) it just becomes a bit of a slave to sponsorship, the customer does and the promoter does."
Among the acts playing are Slough "gritpop" four piece Viva Brother, who said the festival was one of the best they were playing this year.
Frontman Lee Newell said: "This festival isn't necessarily our crowd and I like a challenge. It's a lot more relaxed, but you know, that's not a bad thing. I adorned a blazer for the occasion, so I fitted in. I like it, this festival is all about independent outlets being involved and there's no banners everywhere saying Umbro, or whatever.
"I like that, you know, it's an independent thing. It's something that's been lost in music at the moment."
He added: "There's an unbelievable line-up, one of my favourite festivals we're playing this year, I think. We're definitely gonna stick around, until we're kicked out."
Source: music.uk.msn.com
Added automatically
1162 views