News
Paloma Faith sings with lost voice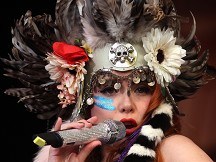 Paloma Faith wowed the crowd at Latitude Festival at the weekend, despite having lost her voice.
The Stone Cold Sober star dazzled and danced as she performed in a colourful tribal-inspired outfit with a headdress of flowers and feathers. But she had spent the day not speaking so she could save her voice for singing.
Paloma gave an interview to Absolute Radio's Geoff Lloyd by writing her answers on paper, prompting the DJ, a close friend of hers, to joke it was like interviewing mute puppet Sooty.
Asked how she planned to celebrate her 24th birthday on Thursday July 21, Paloma revealed: "I'll be celebrating my 24th Birthday naked and barefoot, mud wrestling in Hyde Park."
Meanwhile, Paolo Nutini, who proved to be a huge hit with the ladies at Latitude, revealed to Absolute Radio he is hoping to collaborate with Jay-Z after meeting him at Glastonbury.
The New Shoes singer joked: "Of course, of course. I'll say to him 'You do the chorus vocals and I'll do the rap and verses, you know, we'll be good, we'll be good'."
Paolo revealed he was proud to see The Arctic Monkeys' Alex Turner and Jay-Z watching him perform at Glastonbury from the side of the stage, revealing Alex was big inspiration to him.
He said: "Yeah, it was like Zoolander, da da, you know, you've got the guys there. It was cool, man.
"Alex, I've been lucky to meet a few times, you know, for most young musicians he's got to be a massive inspiration, you know. I don't really know why, you know, lyrically obviously, but just in general being able to be that big but keep that kind of... you know?"
Source: music.uk.msn.com
Added automatically
1106 views