News
Gaga to send doppelganger to VMAs?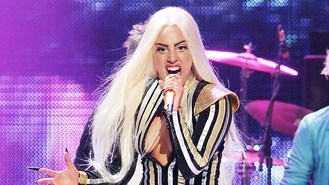 Lady Gaga has teased that she may send a body double to perform at the MTV Video Music Awards.
The Bad Romance singer, who has recovered from having hip surgery in February, is set to make her major stage return at the Brooklyn ceremony in August, where she will sing her new single Applause.
"I'm sending a doppelganger," she told Women's Wear Daily.
The songstress, who arrived at the 2011 Grammys in an egg, added: "I'm going this year as a fried egg instead of hard-boiled."
As the 27-year-old singer unveiled the artwork for Applause, the first single from her third album, she admitted her injury was worse than she thought.
"My injury was actually a lot worse than just a labral tear. I had broken my hip. Nobody knew, and I haven't even told the fans yet," she said.
"But when we got all the MRIs finished before I went to surgery there were giant craters, a hole in my hip the size of a quarter, and the cartilage was just hanging out the other side of my hip. I had a tear on the inside of my joint and a huge breakage."
She added: "The surgeon told me that if I had done another show I might have needed a full hip replacement. I would have been out at least a year, maybe longer."
Gaga said her six-month recovery period gave her time to reassess her upcoming album, which is due out later this year.
"I had six months to beef up my brain and my body. I was given the time to really be creative because it's a gazing process, it really is. I have to gaze into the work for long periods of time for it to be good," she admitted.
Source: music.uk.msn.com
Added by AutoAdmin
633 views