News
B*witched donate trademark denim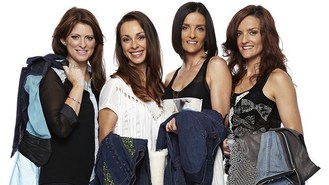 B*Witched are devoted to denim and now they're giving away some of the outfits that became their trademark.
The C'est La Vie singers recently reunited and Keavy Lynch revealed she can still fit into the jeans she wore on tour almost 15 years ago. The Irish band are auctioning some of their denim outfits on eBay to raise money for UK charity, Jeans for Genes Day.
Keavy, 33, revealed: "I pulled out my tour stuff when eBay got in contact and I was like 'Oh my gosh it still fits!'"
Along with twin sister Edele, Lindsay Armaou and Sinead O'Carroll, Keavy spent six years living in denim everyday as they toured with hits including Blame It On The Weatherman and Jesse Hold On.
Keavy revealed : "At first it was like, really!? We're going to just wear denim?
"But for me it turned out to be quite a relief because it became like a uniform. "When I got up in the morning, you know how it is, us girls panic about, 'What am I going to wear?'
"We never had to do that. We always just had to roll out of bed, grab a pair of jeans, put a top on and a denim jacket and away we go."
And when the band got back together for ITV show The Big Reunion last year, Lynch insists it would have been a let down for fans if they hadn't donned their denim.
While she still wears jeans a lot, she admitted: "I don't tend to wear double denim when I'm not working, because it does make me feel like I'm working with the girls."
Sinead has donated the jacket she wore on the cover of their eponymous debut album, Lindsay is giving away her Jesse Hold On outfit, Keavy chose the outfit she wore to open their 1999 tour and Edele has donated the jacket she wore in the video for number one single To You I Belong.
Keavy said: "It was a little bit hard to choose. Part of me wanted to keep the really iconic pieces, and part of me wanted to do a really good job for Jeans for Genes. So it was a little bit sad to give away but I'm pleased to raise money."
The B*Witched denim auction will run until August 11 2013 at eBay.co.uk/sellyourjeans.
Source: music.uk.msn.com
Added automatically
1042 views