News
Burnel condemns 'sterile' bands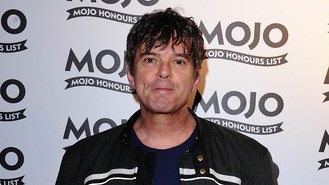 The Stranglers star Jean-Jacques Burnel has criticised today's bands for being "sterile".
The punk band, best known for the songs Golden Brown and No More Heroes, have sold around 40 million records since they formed in 1974.
Bass guitarist and co-founder Burnel, 61, boasted that the group had sold "more than The Clash or the Sex Pistols", and added: "It's less than U2, but they're boring and smug."
He told the Radio Times that the desire to get rich was destroying creativity.
"The Rolling Stones were fantastic for their first 10 years, but haven't done much since... They've made a lot of money because people still go to see them - so who's to blame?
"I'm trying to be sentient and valid, not living in the past. Bands are so sterile now because there's too much of a commercial imperative. Artists shouldn't play safe."
Meanwhile, Burnel admitted his views had changed since he wrote Garden Of Eden, about the Queen and her "useless children".
"Now I argue the case for constitutional monarchy, which I never thought I'd do," he said. "Take the p*** out of me as much as you like. It's no longer The Stranglers against the world. It's The Stranglers with a few friends."
Speaking about his past, he said: "I've seen quite a few fall by the wayside and die... At uni, I discovered karate and when I indulged in heroin and cocaine I reached rock bottom - everyone does. Fortunately I went back to karate and decided to clean up."
Asked whether Golden Brown, the band's most successful single which was released in 1982, was about heroin or a girl, he said: "I won't tell anyone. I don't need to."
Source: music.uk.msn.com
Added automatically
1119 views