News
Eels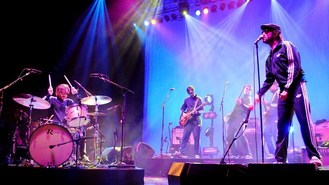 Eels' Mark Everett has said his plan was to have no plan when writing recent album Wonderful Glorious.
The band's singer, also known as E, admitted he couldn't believe he'd even released one album let alone 10.
He said: "I still can't believe I got through one album. It's so much work it's amazing one comes out, let alone 10."
Mark also talked about how 10th album Wonderful Glorious differed from his others.
He said: "I usually have a very set idea of what I want to accomplish, but what was different about this one was that the plan was to not have a plan.
"I said if we all meet up on this date then we'll just see what happens."
Mark, who played on the Arena Stage at V Festival and is touring the UK with Eels again in September, said he was already working on his 11th album but was keeping any plans a secret.
He said: "I have so many plans that if I talk about all of them people are like, 'Whatever happened to that,' years later. So I make it a rule not to talk about them."
Source: music.uk.msn.com
Added automatically
1016 views