News
Travis instruments lost by airline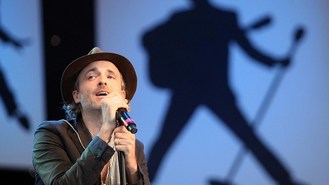 Travis had to Turn to the other bands on the line-up at V Festival for help after all their instruments and equipment got lost en route.
The Why Does It Always Rain On Me singers played the festival in Chelmsford, Essex on Saturday (August 17), but had to make do with anything they could borrow in order to perform their set.
Bassist Dougie Payne said: "We had to play without most of our equipment, because the airline lost all our stuff."
Frontman Fran Healy added: "We were playing with everyone's equipment. It was like that scene at the end of It's A Wonderful Life where everyone helps them out, and everyone's giving us guitars and amps.
"It's weird playing with other people's equipment because you don't know what is what, but it sounded alright actually."
The band admitted they felt much more relaxed ahead of their performance in Staffordshire the next day as they had been reunited with their own instruments.
Meanwhile, singer Fran has confessed he takes his hat off to TV talent shows like The X Factor for keeping the record industry going as it tries to cope with internet downloads and piracy.
He said: "If you're on telly you'll sell records. It seems like a no brainer. That's why all those people sell records.
"And there's a whole school of 'legitimate artists' who are like 'Down with The X Factor!' And there's a part of me that thinks... they sold a lot of records at a time when the record business was going south.
"And if you'd taken that away I think the record business might have actually been in a worse place, because it's money over the counter for the bigger labels."
Source: music.uk.msn.com
Added by AutoAdmin
650 views