News
Suede vow 'party gig' at festival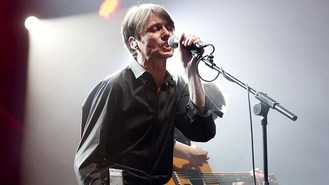 Suede have promised Belfast fans a party gig when they arrive in the city later this month.
The reformed band, who had hits in the 1990s with Animal Nitrate, Stay Together and Beautiful Ones, reunited in 2010 and will headline the Belsonic festival on August 24.
Bassist Mat Osman said he was looking forward to it.
"There'll be a few things from the latest album and a lot of the old stuff," he said.
"We never really used to play festivals, it's only since we have come back that we have got into the idea of it, and the idea of it being a party gig, rather than just playing to your adoring fans.
"And we're quite enjoying it.
"We've played Belfast a few times before and it's always been amazing. But we haven't played since we reformed."
Lauded as the best new band in Britain shortly after they emerged on to the music scene in the early 90s, Suede's self-titled debut album became the fastest-selling in UK history, topping the charts and winning the Mercury prize in 1993.
Despite the departure of songwriter and guitarist Bernard Butler the band enjoyed further commercial success with Coming Up in 1996.
It produced five top 10 singles, becoming the band's biggest-selling album and bringing international success.
The London group split up in 2003 but were back together by 2010, led by vocalist Brett Anderson.
Osman added: "It's completely different now. None of us have ever done anything else. This is the only band I've ever been in, I've never had a proper job or anything. So we got used to the idea that this is a normal, everyday existence, touring tended to be a bit of a holiday and it tended to be a little bit sketchy. Because you were out every night and the gigs were just part of how you lived your life.
"And it became quite ordinary, which is just ridiculous. It should never become ordinary because this is one of the most privileged, exciting, surreal experiences a human being can have."
He said crowds at concerts so far have been good mix of original fans and a new generation who discovered them on the internet or through older brothers and sisters.
"I really wouldn't want to do this if it was just a nostalgia thing, I don't think that's any fun for anybody."
They are playing Hampstead Heath the day before Belfast, a "picnics and wine coolers gig".
Osman said he was looking forward to Belfast for a bit of madness after that.
"If I remember rightly, Belfast crowds tend to be quite physical and quite noisy," he said.
"I just remember the gigs there being a bit manic and that's exactly what we are going to need after a day in the park."
The annual Belsonic music festival, which brings an eclectic range of artists to Belfast city centre, will run from Friday 16 to Monday 24 August at Custom House Square. Among other headline acts taking part will be Basement Jaxx and Ben Howard.
Source: music.uk.msn.com
Added by AutoAdmin
578 views