News
Cyrus thinks Pharrell is best act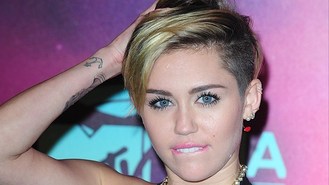 Miley Cyrus has said that in her opinion, Pharrell Williams has been the best entertainer of 2013.
The Wrecking Ball singer was named as one of Entertainment Weekly's entertainers of the year, and told them that if she could pick one herself it would be Pharrell.
She said: "I really think Pharrell is the entertainer of the year. Not only for what he did on my record but for what he did in the music industry in general with Blurred Lines and Daft Punk."
Pharrell, who sang on the Daft Punk hit Get Lucky, also contributed to Miley's album Bangerz and helped her develop her new sound.
She continued: "He and I were kind of on the same path, and I think that's why he and I connected. He really feels like a brother - it's more than just us working together. No one had heard from me or him in a minute, and we were just kind of brewing up what we wanted to do next and what we wanted to drop on people.
"He and I were on kind of a journey together, and I couldn't be more happy for him and what he accomplished this year in everything - in fashion, in art, everything he does. There's not a better person I would wish that on.
"He's the best person I've ever gotten to watch and learn from. I've grown up in this industry, and I've watched a lot of people, and I think that's where I learned most of what I know. He's one of the greatest mentors I've ever had, and who he is as a person is equally as amazing as who he is as an entertainer."
In January, Pharrell told Entertainment Weekly about his respect for Miley: "Miley Cyrus is gonna be amazing... She is nothing short of a phenomenon. To see her go is amazing to watch. She's not afraid of anything."
Source: music.uk.msn.com
Added automatically
978 views