News
Spice Girls in tribute to Mandela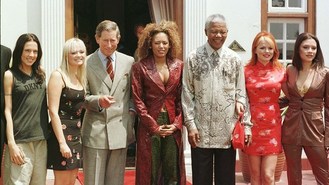 The Spice Girls, who famously had an encounter with Nelson Mandela in which they claimed their "girl power" mantra put them on the same level as the statesman, have spoken of their admiration for the late South African leader.
The group, at the time riding high in charts around the world, visited him in 1997 after heading over to his country to perform at a charity concert. Their meeting was all the more peculiar because their presence overshadowed that of the Prince of Wales who lined up with them all at the same photocall.
The group's Geri Halliwell said today, in a message on Twitter: "It was an absolute honour to meet such an inspiring man. He was amazing, incredibly charming and warm."
And her former bandmate Mel B said: " We truly have just lost someone sooo amazing in every way, what a soul, what a man."
The meeting at Mr Mandela's residence in Pretoria made headlines around the world at the time and made a strange spectacle with the singers in their flamboyant outfits and platform shoes. At one stage Geri gently rested her head on the then president's shoulder like a favourite uncle.
Asked how he felt to meet the Wannabe singers, the 79-year-old Mandela responded: "I don't want to be emotional but this is one of the greatest moments of my life."
Standing beside him, Geri said: "I think there's a classic speech that Nelson Mandela did and I can't remember exactly but you mentioned about never suppress yourself, never make yourself feel small for others' insecurities and that's what Girl Power's all about so I think we're on the same level."
She quickly added: "On that view."
Emma Bunton praised him today, saying: " What a legacy he has left behind. I had the honour of meeting him and his spirit was unlike any other."
And Melanie C added: " I always feel strange acknowledging somebody's passing on Twitter but I have to say I am honoured to have met the great Nelson Mandela."
Source: music.uk.msn.com
Added automatically
1004 views