News
Lily Allen: I am part of a machine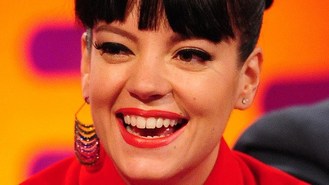 Lily Allen has admitted she feels like she is "part of a machine" and that she is "owned" by a corporation.
The Air Balloon singer also confessed that it could be "f***ing exhausting" having to argue for her own way when it comes to her music career, reported the Daily Mirror.
Speaking at the Vogue Festival, Lily weighed into a discussion about how people play it safe in terms of fashion.
"I experience it at the moment re-entering the music industry. What you have heard on the radio station so far, the contribution of my album is very much the more beige, saccharine elements to what I have made," said the singer, who recently revealed on Twitter that MTV had threatened to ban her Our Time video unless she made a cleaner version.
"The reason for that is because the people in control of the radio stations, the people that are in control of the record companies, are too scared to put themselves on the line in case someone gets offended.
"If I said to my record company I really want to go with this song, they would say 'Sure, here is £5 for the video'."
Mum-of-two Lily appeared on the panel alongside Grayson Perry and Jasper Conran, with the group talking about taste.
The 28-year-old also said: "I am part of a machine. I do not necessarily make the decisions I would make for myself as an artist. I am owned by a multi national corporation.
"No one makes me do anything because I can put my foot down but it gets f***ing exhausting having to argue with people all the time. You just pick your battles."
Lily tweeted after the event: "That was lovely @BritishVogue thanks for having me at #VogueFestival lovely being in the presence of @graysonperry @JasperConran too x."
Source: music.uk.msn.com
Added automatically
970 views