News
The PPL People's Pop Chart 2014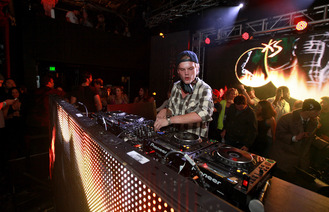 It's official: We Love Our British Music
U.K. music licencing agency PPL today revealed the top tracks Brits tuned into last year, releasing their People's Pop Charts 2014, and proving local music is high on our radar.
The encouraging statistic comes as a welcome affirmation to local acts of British audiences' appreciation for their work. Four British songs made it to the top ten most played from the year, up from just three in 2013. 
PPL's director of performer affairs, Keith Harris, is thrilled to see that the recognition and passion for British music is on the rise. "British pop music and artists are certainly on a high at the moment internationally, and it's great to see that, here at home, three out of the top five most played artists are also from British acts. It feels good to know that British performers, from the biggest to the smallest are being supported by the licenses that broadcasters and businesses buy."
Take a look at the top 10
1. Happy – Pharrell Williams
Pharrell cinched the top spot with 'Happy', selling 13.9 million copies worldwide it became one of the best selling singles of all time. Off the back of this success 2015 continues to be the year of Pharrell. He has lent his talents to other blockbuster films like The Spongebob Movie and Paddington. We will soon see him in the UK as he embarks on a world tour. 
2. Rather Be – Clean Bandit ft. Jess Glynne
It comes as no surprise that the preferred U.K. tune was Clean Bandit's smash hit Rather Be featuring England's pop powerhouse performer Jess Glynne. The song came in second overall, but Jess has definitely blown up this year with her debut as a solo artist. Both of her singles: "Right Here" and "Hold My Hand", reached the top 10 and her album 'I Cry When I Laugh' is expected to be released in August 2015. 
3. Ghost – Ella Henderson
X Factor favourite Ella Henderson took the third spot with her debut single 'Ghost' and since then her album 'Chapter One'  has reached number one in the UK album chart.  She has even made it big stateside appearing on popular talkshows such as 'Good Morning America.' We will see her headlining tour in October and November 2015. 
4. Counting Stars – OneRepublic
The incredible OneRepublic found the band's biggest hit to date with 'Counting Stars' charting within the top five in Australia, Austria, Czech Republic, Denmark, Germany, Hungary, Ireland, Israel, Luxembourg, Poland, New Zealand, Scotland, Slovakia and Spain.  Lead singer Ryan Tedder has said the band is going in a new direction with their next album but no release date has been planned as of yet. 
5. All Of Me – John Legend
We have seen John Legend around the UK these past few months, more recently he has collaborated on the Comic Relief single 'Lay Me Down'  with Sam Smith and in February 2015 he performed at the opening ceremony of the Superbowl. 
6. Stay With Me – Sam Smith
2014 was definitely the year of Sam Smith! His debut album 'In The Lonely Hour' was the second- best selling album in the UK and he has literally taken the world by storm. It might be a while before we hear another record from him as he is recovering from emergency throat surgery but his catalogue of hits are good enough for now!
7. Roar – Katy Perry
Queen of Pop Katy Perry might not have taken the crown in this category but she did reign supreme in the People's Artist Chart, beating many of our Brits. She has just finished her Prismatic World Tour and in February was the main headlining act for the Superbowl. Who remembers the dancing sharks? 
8. Sing – Ed Sheeran
Our favourite red- head is the gift that keeps on giving!  With the release of his second album 'X' back in 2014 we are still enjoying the delights of his music and he is continuing to impress. In July he will play his biggest solo shows to date at London's Wembley stadium. 
9. Rude – Magic!
Canadian band MAGIC! stormed the charts with their debut single 'Rude' and although we haven't heard much else from them they're quite busy opening shows for Maroon 5 on their North America and Europe world tour. 
10. Hey Brother – Avicii
Swedish DJ Avicii made a big impression in the UK with his second single 'Hey Brother' even winning him an MTV EMA for 'Best Electronic.' We are currently waiting for his next album to come out which a Swedish newspaper confirmed would be released Autumn 2015. 
Source: www.msn.com
Added automatically
711 views