News
Could Usher be making a move to the UK soon?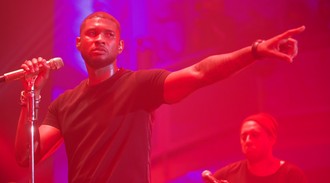 Usher has revealed he would love to live in the United Kingdom for a while, during a special concert in London.
The US music star performed at a private gig for 400 fans as part of a campaign which has seen him surprising his fans around the globe.
He said: "I've love to live in London, and I'd love my kids to explore the culture, the languages, everything. I've always wanted to do a stint in London."
The MasterCard Priceless Gig event, held at the London Symphony Orchestra's St Luke's venue in the capital, saw him doing an intimate performance of some of his greatest hits like You Make Me Wanna, OMG, Climax and Good Kisser. Bond girl Naomie Harris and singer Labrinth were among the celebrity guests watching the show.
Talking about the campaign, he said it's been a way to connect with his supporters: "I wanted to bring it back to being personal and give something back to my fans."
In February this year he surprised a fan in the US by dressing up as a street performer and dancing for her before revealing his identity.
He joked he'd made around "25 dollars" before revealing his identity, and said the experience had been nice to "see it through different eyes".
The singer revealed he's also working on a new album and a new movie.
When asked what he thought he'd be doing if not in music, he said: "I think your destiny finds you, no matter what it is, it will find you."
He also revealed that growing up, he'd tried playing various sports, but was never any good. "I tried my hand at different sports – everything from basketball, to baseball and tennis. I wasn't very good at them."
He commented on the athletes of today, saying: "Is everyone taller than me, are they growing or am I getting shorter?"
Having recently travelled to Germany and Morocco, he found time to take in various artworks in the latter.
When asked if he was thinking of venturing into art himself, he said he considers his music and other various brands and products he associates himself with as an art form in themselves.
Now a father of two, he joked: "I am a good finger painter and I do good chalk drawings on the drive."
Usher performed at an exclusive MasterCard Priceless Gig as part of the Priceless Surprises campaign. Fans can visit pricelesssurprises.co.uk to enter for gigs with Mary J Blige, Paloma Faith and the Kaiser Chiefs.
Source: www.msn.com
Added automatically
708 views