News
Kanye West 'considering leaving Tidal'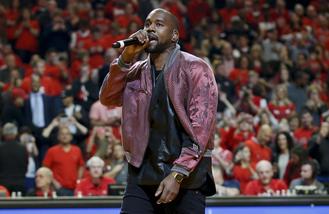 Kanye West is reportedly close to withdrawing his support for the music streaming service Tidal.
The Jay Z-led service was launched amid much publicity at a star-studded event in March, but Kanye - who's currently working on his new album 'Swish' - is considering releasing his record via rival firm Apple.
A source told The Sun newspaper: "Apple are trying everything to get him on board for the launch of their new streaming service in the coming days.
"He's always had a close relationship with Apple and considers Steve Jobs one of his biggest influences."
The speculation comes shortly after Jay Z came out in defence of Tidal, saying it's been the victim of a "smear campaign".
He tweeted: "There are many big companies that are spending millions on a smear campaign. We are not anti-anyone, we are pro-artist & fan. We made Tidal for fans. We have more than just music. We have video, exclusive concerts, tickets for events early, live sports! (sic)"
Later, he added: "Tidal pays 75 per cent royalty rate to ALL artists, writers and producers - not just the founding members on stage.
"Indie artists who want to work directly w/us keep 100 per cent of their music."
"The iTunes Store wasn't built in a day It took Spotify nine years to be successful. (sic)"
Source: www.msn.com
Added automatically
695 views