News
Kesha files suit against Sony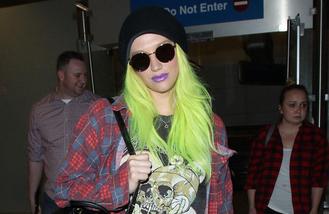 Kesha claims Sony Music Entertainment put female artists in "physical danger" by having them work with Dr. Luke.
The 'Tik Tok' hitmaker previously filed legal documents seeking to have her contract with the producer dissolved after accusing him of sexually, physically, verbally and emotionally abusing her for almost a decade and submitted an amendment to the case earlier this week in which she alleges the company supported the 41-year-old musician's behaviour.
Court documents state: "Dr. Luke's proclivity for abusive conduct was open and obvious to [Sony Music Entertainment] Doe executives, who either knew of the conduct and turned a blind eye, failed to investigate Dr. Luke's conduct, failed to take any corrective action, or actively concealed Dr. Luke's abuse.
"SME's conduct placed Jane Doe female artists, including Ms. Sebert, in physical danger by giving Dr. Luke full creative and business control, with nearly limitless financial resources, over young female artists who necessarily were compelled to become dependent upon his good will."
The amended complaint goes on to allege the 28-year-old pop star - whose full name is Kesha Rose Sebert - complained that Dr. Luke wouldn't renegotiate "as he promised and according to industry custom" and Sony "ratified" this by giving the producer a record label deal and a "platform to continue his abuse."
The papers added: "Based on SME's conduct, SME has forced an abusive relationship between Dr. Luke and Ms. Sebert to this day."
Sony have not commented on the case, but Luke's representatives slammed the amendment as "desperate".
His lawyer, Christine Lepera, said: "This seems like a desperate effort.
"It's conclusions without facts, and there's nothing new. They are trying to embroil Sony and it won't work."
In response to her original lawsuit, which was filed in October 2014, Luke - whose real name is Lukasz Sebastian Gottwald - filed a counter-suit against the 'Die Young' hitmaker, accusing her of defamation.
Kesha's mother Pebe Sebert is also suing the producer for allegedly causing her to suffer post traumatic stress disorder (PTSD).
Source: www.msn.com
Added automatically
779 views