News
Grohl: Kanye could take Glastonbury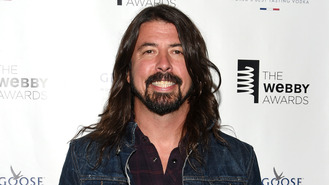 Dave Grohl thinks Kanye West's personality can be "hard to swallow".
The Foo Fighters frontman is gearing up for his band to headline the Glastonbury music festival on June 26, with hip-hop star Kanye doing the honours the following night.
The event has a history of rappers taking to the stage, with Jay Z performing in the past, but some fans still aren't happy about Kanye's inclusion. Dave can see why, but not for any musical reason.
"I think maybe Kanye's personality might be harder to swallow than his music. But these are the moments that make for great moments in the history of rock 'n' roll," he told British newspaper The Sun.
"One of the things I love about Glastonbury is the diversity in the line-up. There's everyone from Florence (and the Machine) to Kanye West to Lionel Richie.
"You've got more attention on that Saturday night set from Kanye than maybe anything else. Who knows what will happen? He could walk out there and have 100,000 people bottle him on stage or he could walk out there and show the world that nothing else matters except for that moment. And I'm sure that is what he will do."
Dave is in awe of Kanye's decision to rock the stage, explaining that for him, there's nothing more in the rock spirit than persevering despite people petitioning against you being there.
He's excited to perform there too, although he hasn't given much away about what he has in store for fans. Instead, the singer-and-guitarist chose to be more general about gigs, explaining he loves nothing better than feeling the energy from the crowd.
The star knows the show has gone well if he comes off stage and is exhausted.
"It's more mental than anything. You have to try to figure out how to pace yourself through it and how to pace the audience," he explained.
"Sometimes I look at the audience and think, 'I'd better give them a break,' and I do a slow song because I've just worn them out with bouncing."
Source: www.msn.com
Added automatically
759 views