News
Foo Fighters confirm second series of 'Sonic Highways'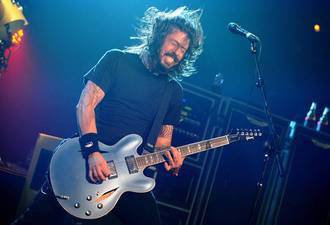 Sonic Highways was a hugely ambitious project. An eight episode HBO series which saw the Foo Fighters travel to eight different cities to record eight tracks all influenced by their respective cities.
It turns out that wasn't ambitious enough for Dave Grohl though as he's confirmed there will be a second season of Sonic Highways, and what's better is it could potentially be set in the UK.
"It might or might not be international, it might someday be international," Grohl said to NME. "It might only be in England. It might be in England and other places."
The first series originally aired in October 2014 and followed the band as they recorded their eigth studio album of the same name.
The frontman continued: "The great thing about the idea, the concept of the project, is that it can be anywhere because every city has some sort of musical history, but I don't know.
"Of all places in the world England and the UK just seems like it would be shooting fish in a barrel. There's just so f****** much here. I'm sure it will happen some time, I'm just not sure when"
When asked why he said around the time of the first series why he said he would never do it again, the ex-Nirvana man said: "By the time we were finished with Sonic Highways I was just fucking exhausted… [we] got overwhelmed and tired.
"But it's kind of a magical luxury of my life that I'm able to go around and interview people and learn about the history of all these awesome places so I wouldn't just give it up that's for sure."
The Foo's are currently gearing up to headline Glastonbury for the first time in their career. Also appearing at the festival will be Kanye West, The Who, Florence + the Machine, Alt-J and The Maccabees.
Source: www.msn.com
Added automatically
728 views