News
Puddle of Mudd's Wes Scantlin launches foul-mouther rant against audience member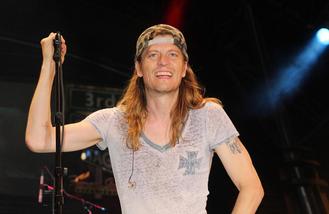 Puddle of Mudd's Wes Scantlin stormed off stage in Ohio after accusing a member of the audience of stealing his house.
The 'Blurry' hitmaker was performing at Ohio's Adelphia Music Hall over the weekend and suddenly stopped the gig, before yelling at the crowd telling them he wasn't going to play and that they can "keep" their "goddamn money".
Scantlin then launched into a foul-mouthed tirade against the mystery man accusing him of treating
According to local radio station WQLZ, he shouted at the crowd: "Keep your goddamn money. F**k it. This motherf***er right here stole my motherf***ing house and now he's standing right f***ing in front of me laughing at me. And he f***ing figures I'm a f***ing joke. This motherf***er right here. Get his ass on camera, right. Get his ass on camera. Get his ass on camera. This is the dog. Right here. This is the motherf***er right here. This guy stole my f***ing house."
Following his outburst, Scantlin then left the stage in an angry state.
The outburst comes following a turbulent couple of months for the 43-year-old singer which has him arrested on two occasions.
On December 26 he was cuffed for drugs possession and later detained by police officers and on January 9 he was arrested after allegedly vandalising his old house.
Source: www.msn.com
Added by AutoAdmin
572 views