News
Zendaya: 'Chris Brown collaboration is awesome'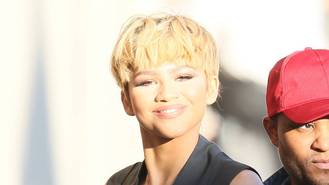 Pop star Zendaya wasn't fussed about which song Chris Brown appeared on, she just really wanted to sing with him.
The 19-year-old has joined forces with Chris on single Something New, with Chris' fans, who refer to him as Breezy, raving over the track.
Zendaya is equally as excited, as landing a duet has been a career defining moment for the singer.
"I was with my parents and I was like, 'Hey bro, just want you to play my music. Whichever one you like'," she said at Essence's Black Women in Music pre-Grammy Event, reports USA Today.
"It happened to be the one I wanted him on, so bam!"
Zendaya hasn't released an album since her 2013 self-titled debut effort, but is planning to put out a fresh LP in the not too distant future.
She's channelling a new sound with album number two, which reflects how she's changed in the last three years.
"It's about finding out who I am, learning about myself and becoming a young woman," she smiled.
To go with her updated sound, Zendaya has shown off a choppy pixie crop haircut.
The star was known for her long locks, which she wore in dreadlocks for the 2015 Oscars. The style was the centre of a media scandal though, after Fashion Police presenter Giuliana Rancic commented: "Like, I feel like she smells like patchouli oil. Or weed."
The remark was slammed as racist, and saw Fashion Police co-hosts Kelly Osbourne and Kathy Griffin leave the TV show.
After 41-year-old Giuliana apologised, Zendaya showed her maturity by publicly forgiving her.
"Giuliana, I appreciate your apology and I'm glad it was a learning experience for you and for the network," she wrote on Instagram. "I hope that others negatively affected by her words can also find it in their hearts to accept her apology as well."
Source: www.msn.com
Added by AutoAdmin
563 views