News
Hurts' romantic show at O2 Academy Brixton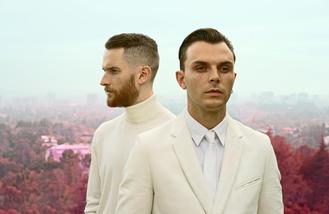 Hurts brought romance to London's O2 Academy Brixton on Saturday night (13.02.16).
The synth-pop duo - comprised of singer Theo Hutchraft and synthesist Adam Anderson - delighted an auditorium that was packed with couples and lovers on Valentines weekend as they opened the show with 'Some Kind of Heaven' from their latest LP 'Surrender', which goes "My heart screams Hallelujah when I hear your battle cry, I know we're so young but I swear you're the one for me" and followed it up swiftly with their sexy and provocative track 'Miracle'.
Couples were joined by Theo clones dressed in black, stunning Romanian models who had journeyed from the mother-land, middle-aged women pining for 1980s power-pop and a few screaming teens for good measure.
The peddlers of melodramatic pop continued the set with a mixture of hits from their 2013 LP 'Exile' and breakout 2010 album 'Happiness'.
They cranked up the emotion with their 2013 hit 'Somebody to Die For but gave the crowd some emotional relief when they sang darker tracks 'Sandman' and Surrender's 'Lights'.
A crescendo of uplifting songs followed including 'Wonderful Life' from their 2010 LP 'Happiness' as well as 'Wings' and 'Nothing Will Be Bigger Than Us' from their latest offering.
Speaking exclusively to BANG Showbiz about the record - which was written in Ibiza, Los Angeles, New York last year - Theo previously revealed: "We wanted to make a big pop album. You know? A big bold statement of an album.
"When we made it, it was just us enjoying ourselves. We set out with this plan of not wanting to make music in the rain in Manchester. So we said, 'What would happen, if we went to the sunshine, had a great time and just let the music come out?' We make music with aspirations. But the weirdest thing about it is that we're normal. We're not weird, we're fun. And those places brought it out in us."
However, the singer notably ended on fan favourite track 'Stay', a heartbreak song that leaves you yearning for lost love, as it goes "Say goodbye in the pouring rain, and I break down as you walk away."
Hurts were supported by indie-rock four-piece Spector, who treated the crowd to their hit 'All The Sad Young Men' during their opening set.
The duo now head to Europe to embark on a 21-date tour of mainland Europe which kicks off in Luxembourgh on February 15 and ends in Wiesbaden in Germany on March 16.
Source: www.msn.com
Added by AutoAdmin
494 views