News
Taylor Swift slyly slams Kanye West with Grammy Awards win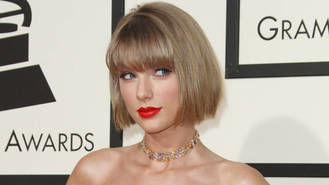 Taylor Swift fired back at Kanye West by slyly blasting the rapper during her Album of the Year acceptance speech at the Grammy Awards on Monday night (14Feb16).
The rapper debuted new material from his album The Life of Pablo last week (11Feb16) and took aim at Taylor in his track Famous, in which he raps, "I feel like me and Taylor might still have sex, yeah I made that b**ch famous."
In the song, Kanye references his infamous onstage interruption at the 2009 MTV Video Music Awards, when he grabbed the microphone off Taylor as she was about to accept the Female Video of the Year award, because he felt Beyonce deserved to win instead.
After he premiered the tune, Taylor's representatives denied claims she approved of the song, insisting Taylor declined to promote it on Twitter.com and "cautioned him about releasing a song with such a strong misogynistic message... Taylor was never made aware of the actual lyric, 'I made that b**ch famous'." Meanwhile, Kanye insisted he did not slam the pop star because she came up the lyric idea herself.
And for the first time since Famous was released, Taylor spoke out about the war of words - and used her platform at the Grammy Awards to speak her mind.
After Taylor was presented with the Album of the Year trophy for her record 1989, she told the crowd, "As the first woman to win Album of the Year at the Grammys twice, I wanna say to all the young women out there that there are going to be people along the way who try to undercut your success or take credit for your accomplishments or your fame," making a slight nod to Kanye's song.
She continued, "If you just focus on the work and you don't let those people side track you, someday when you get where you're going, you'll look around and you will know that it was you and the people who love you who put you there. And that will be the greatest feeling in the world. Thank you for this moment."
In addition to the Album of the Year prize, she also won Best Pop Vocal Album for 1989, as well as Best Music Video for her Bad Blood promo with Kendrick Lamar.
Source: www.msn.com
Added automatically
667 views