News
Meghan Trainor explains her Grammy Awards sobbing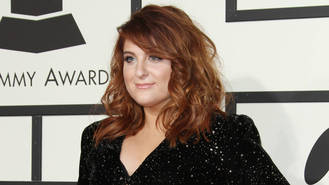 Meghan Trainor has explained why she had such an emotional response to winning the Best New Artist gong at the Grammy Awards, revealing the honour makes her feel like she has made it as "the face of the music".
The 22-year-old singer struggled to control her emotions as she picked up the gong for Best New Artist at the Grammy Awards on Monday night (15Feb16).
Meghan beat Sam Hunt, James Bay, Tori Kelly and Courtney Barnett to take home the award, and was presented with the prize by Sam Smith.
After attempting to compose herself, Meghan explained just why she had such an incredibly emotional reaction to the win.
"It feels unbelievable. I still can't breathe," she told Variety. "I've been crying ever since I got off that stage. I always wanted to be an artist, to be the face of the music, so to be named best new artist means more to me than anything in the world."
Meghan used her acceptance speech to thank producer L.A. Reid. She also spoke of her admiration and respect for Reid backstage, admitting she wouldn't be where she is today without his belief in her.
"When I first auditioned for him I was wearing a backwards hat, a hoodie and cheetah pants…which I probably shouldn't have," she laughed. "But I played All About that Bass for him on ukulele, and he saw me as an artist."
Meghan also shared a composite picture of both herself and her father crying on Instagram, admitting it was her dad's final comment to her before she walked up to the stage that prompted the tears to start flowing.
"This is me forever..balling my eyes out," Meghan captioned the shot. "Can't believe what happened. My dad whispered, 'You made it,' before I walked up and I lost it. I love my family so much. Without them I wouldn't be here today. Thank you to my team and everyone who got me here. Gonna cry happy tears all night. AHHHHHH!"
Source: www.msn.com
Added automatically
636 views