News
Kanye West: 'My purpose in life costs money'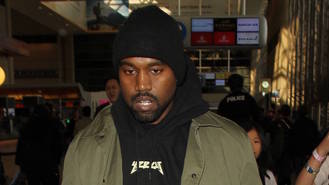 Kanye West considers himself a service to the world, but only when he's funded by other people's cash.
The rapper made headlines in the early hours of Monday (15Feb16) when he publicly pleaded with Facebook founder Mark Zuckerberg for financial help after revealing he's $53 million (£33 million) in debt.
But the 38-year-old continued with his latest Twitter rant a few hours later, explaining he needs the money to help humanity.
"I just feel rich people are always too cool to ask for help trying to impress each other at dinner parties," he began. "I want to help the world and I need help to do it. I am an artist and I care about humanity."
Kanye and wife Kim Kardashian, 35, have significant wealth between them, with huge mansions, private jets and an unlimited supply of designer clothes, but the musician insists his riches wouldn't be enough to achieve all of his ambitions.
"Yes I am personally rich and I can buy furs and houses for my family," the father-of-two continued, "but I need access to more money in order to bring more beautiful ideas to the world. If I spent my money on my ideas I could not afford to take care of my family. I am in a place that so many artist end up. Also for anyone that has money they know the first rule is to use other people's money."
While Mark, 31, is yet to respond to Kanye's request for financial help, the rapper insists other billionaires have been in touch since he first tweeted, and reminded fans he isn't solely on this earth to make good music, adding, "I am of service to the world with my art and I just want to serve more. I am ultra light beaming right now."
Kanye then took the unusual step of acknowledging how confusing his social media ramblings can be, before asking his followers to bear with him.
"This is a God dream," he added, "but if the self proclaimed cockiest person in the world can lay his personal business on the line then please people see my heart. No matter what level you're at in life there is still a struggle."
Source: www.msn.com
Added automatically
647 views