News
Blink-182's Mark Hoppus keeps tabs on All Time Low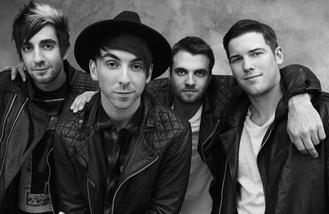 Mark Hoppus is "very involved" with All Time Low.
The Blink-182 rocker keeps a close eye on the rising pop punk band and always shows interest in their music, which is a "dream come true" for 27-year-old bass player Jack Barakat.
Speaking exclusively to BANG Showbiz, he said: "We are as close to Mark than most bands. He is good at keeping in touch and seeing what the band is doing. He is very involved with us and that is a dream come true obviously. He is one of my favourite people."
Elsewhere, the 'Kids In The Dark' hitmaker says he hasn't been told anything about Blink's latest album, with new co-singer Matt Skiba from Alkaline Trio because it's "pretty early" days and Mark is keeping tight-lipped about.
Asked if he'd spoke to Mark about their comeback LP, he said: "It's pretty early in the process. Alkaline Trio is one of my favourite bands and Blink are one my favourite bands. Put it together and I don't know how it can go wrong."
All Time Low - which also including Alex Gaskarth, Zack Merrick, Rian Dawson - have just ended their UK and Ireland headline arena tour with fellow US pop punks Good Charlotte.
One of the highlights of the run of dates for Jack was getting to meet Good Charlotte's Benji Madden's wife Cameron Diaz, who has been coming out each night to support the band.
Of meeting the Hollywood actress, he said she was "the nicest person ever".
He said: "She was watching the show from side of stage and it was really cool because she is the nicest person ever and it was really cool to talk to her."
Source: www.msn.com
Added by AutoAdmin
551 views