News
Taylor Swift wasn't so happy about her 'aggressive' trophy for NME's best international solo artist trophy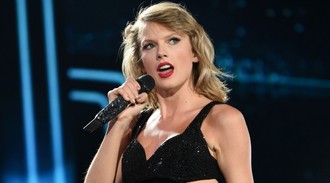 Taylor Swift was not at the NME Awards to pick up her trophy, but she sent in a video message that was half thank you, half telling off.
In the video message, she told the crowd that while she was grateful for the best international solo artist award, she found it "a little aggressive".
For those who don't know, the ceremony's gongs are in the shape of a bronze middle-finger.
She said: "I got the award in the mail. I gotta be honest with you, when you first open the box this feels a little aggressive.
"But then you get used to it, you put it on the shelf. You're like, I kinda like it, it's kinda lol.
"But I'm just saying at first impressions, it's a little weird, but now I understand it, now it's a strange compliment, you're being cheeky about it."
Taylor was up against Lana Del Ray, Kendrick Lamar, Grimes, Kanye West and Courtney Barnett.
The singer was obviously happy with her win, but not everyone in the audience was.
Source: www.msn.com
Added by AutoAdmin
563 views