News
Justin Bieber: 'Colouring books rock, don't judge me'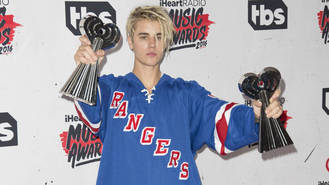 Singer Justin Bieber feels no shame over being a grown-up colouring book fan.
Although the 22-year-old Baby hitmaker has been considered a full-fledged adult in the eyes of the law for several years now, he still falls prey to reverting back to his childlike ways every now and then.
Tapping into his inner kid on Wednesday (13Apr16), Bieber shared an image on Instagram of his work, which featured the coloured-in figure of a sexy tribal hentai anime woman who is licking an ornate ax.
"I colored this," he wrote in the caption. "its dope Cuz I actually sat down for 30 min and finished I never can sit still for that long so it's an accomplishment, yes this took me 30 minutes haha I know I suck Don't judge me."
Bieber, who is known for his brilliant dance moves the world over, has previously spoken about why it can sometimes be a challenge for him to focus on a task or subject for a lengthy period of time.
Back in 2010 while speaking with British newspaper The Guardian, the Sorry pop star admitted he becomes easily distracted by things, attributing this behaviour to the possibility he may suffer from Attention Deficit Disorder.
"I have a small case of ADD," he explained. "It's self-claimed."
"If I don't understand something, and I'm bored, I don't pay attention, so my teacher has to really make it fun for me," he detailed. "Every hour he has to give me a five- to 10-minute break. But after the break, I'll be back into it. I'll be good."
Source: www.msn.com
Added automatically
639 views