News
Kendrick Lamar sued over sample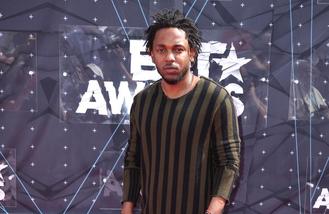 Kendrick Lamar is being sued over his track 'I Do This'.
The 28-year-old rapper is the subject of legal action from Mattie Music Group (MMG), who claim to own the rights to Bill Withers' song 'Don't You Want To Stay' and have accused the star of sampling the piece without permission.
According to legal documents obtained by TMZ, MMG state 'I Do This' "consists of nothing more than new rap and hip hop lyrics set to the existing music of 'Don't You Want To Stay'."
The group are suing for damages and to stop Kendrick from using the 'Ain't No Sunshine' hitmaker's work.
This isn't the only legal action filed against the star this week.
Sameerah Sattherthwaite is seeking $200 million after claiming he stole themes from a poem, 'Revolutionary Women', which she recited for him when they met in Philadelphia in November 2014.
She also claims that, during their two-hour "deep conversation", the 'i' hitmaker told her "he will look out for me if I made him rich," which she considers a "verbal agreement."
And the woman further accused the rapper of using her surname on the extended video version of his track 'Alright', saying at the start: "Satterthwaite, turn that s**t up", and later saying "R.I.P., my diligence is to only write your eulogy".
Various lyric websites list the actual phrase as referring to Kendrick's producer and saying: "Sounwave turn that s**t up"
Satterthwaite wants the star to "cease and desist all profit earned" from the album, or provide her "$200 million for being slandered with R.I.P."
She also asks that he return one of five Grammys he earned for his album 'To Pimp A Butterfly' in the suit.
She has also filed claims against Beyonce and Jay Z.
Source: www.msn.com
Added automatically
657 views